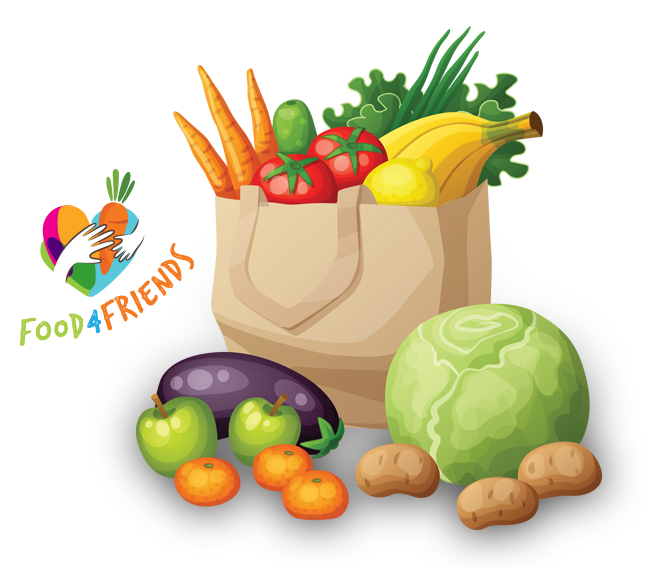 FOOD4FRIENDS
GROCERY GRANT
We're offering a $50US ($60CA) grant for your family to buy some fresh food for a local charity. This is a great activity for younger children who can pick out their very own fresh fruits or vegetables and know they are contributing to a greater good. It provides an uplifting and educational experience to children about the importance of healthy food in our diet and helping 'our neighbors' who lack regular access to these nutritional foods.
The Grocery Shopping Trip
This grant is specifically designed for families. The goal is to give children the opportunity to shop for and donate fresh produce to their local food pantry. The monetary amount may seem small to an adult, however to a child, $50.00 represents a significant amount of money.
We encourage parents to take their child(ren) shopping. Take them to the produce section and allow the child to use the grant to select and purchase items for donation. Actively discuss with your child what fruits and vegetables would be the best to buy. For instance, apples and carrots have a long shelf life and won't spoil quickly, making them good choices. Berries or mushrooms go bad fairly quickly and tend to be expensive, so they may not be the best choice.
Use the shopping trip as a time to ask your child questions, allow them to make choices, and guide them toward good decisions. Discuss what a food pantry/bank is for and who it serves. Finally, after purchasing the produce, take it straight to the donation location, with your child helping to bring in the items.
This may seem like a very small and simple Saturday afternoon project, but it will have a profound impact on children. When children are actively involved they both learn by your example, and develop a sense that they are part of something important.
Here are our recommended steps to get started:

Pray to God
Prayers can accomplish amazing things. Ask God to guide you to find a local charity that needs fresh fruit and vegetables. Search online for charities (e.g. food banks and food pantries) in your area, and find out which fresh produce is in demand. God will provide.

Complete out the form
Once you've submitted the form below to receive the grocery grant, we will arrange for $50 to be deposited in your bank account, or mail you a check.

Buy groceries!
Time for a family trip to the grocery store! This can be a wonderfully rewarding and confidence-boosting experience for younger children. There are many positive ways your child can grow from this experience – as the parent, you'll know the best way to make this happen. The aim is to make the act of giving a far richer experience because of your child's personal involvement in the process.
Donate your fruits or vegetables
Arrange for your whole family to deliver your store-bought produce, dependent on any COVID restrictions the charity might have in place. Once the date is set, do the shopping on that date so that the produce is as fresh as possible.

Connect!
This is a perfect opportunity to create a connection with the staff at the outreach organization, especially for your children. Your children can be gently encouraged to ask questions to find out more about the work of the charity, who they serve and why, and how your family can continue to support the work of the charity. If the opportunity presents itself, consider inviting the organization to your ecclesia or CYC, post-COVID, to explain more about what they do. Please do ask the charity staff for permission to take photographs for your report to The Garden, and confirm The Garden is allowed to share the photos on social media. We'd be happy to include the charity name and a link to their website!

We want to hear from you!
We would love to share your report on our social media as a means to inspire and encourage other brothers and sisters, and so that our community may glorify our Heavenly Father.
Get started by filling out the form below to apply for your family's grocery grant!
If you have any questions, please email initiatives@thegardenoutreach.org

*One grant per family. Available to Christadelphians in North America only.
We're blessed to be able to provide the resources for this initiative at no cost to you or your ecclesia. If you're interested in making a financial donation to help offset some of the expenses, we would be incredibly thankful. Through your generosity, The Garden will continue to share exciting new opportunities to inspire our community reach out to those most in need. Donations can be made on our donation page or the WCF website.