Over 235,000 people sleeping unsheltered
every night in North America – either on the streets, in cars, parks, alleyways or condemned buildings.
Homelessness can be experienced through different kinds of housing and shelter situations, over a short or long period of time.
Unsheltered homelessness refers to people who are "absolutely homeless and living on the streets or in places not intended for human habitation." It includes the temporary occupation of public space, such as sidewalks, squares, parks and forests. It could also refer to people living in cars, in garages, attics or closets, or in makeshift shelters made of salvaged materials (cardboard or tarps, for example), shacks or tents. The occupation of private space and vacant buildings, also known as "squatting," is another example of unsheltered homelessness.
There is much we can do to help.
We know that our Lord will provide all those in his kingdom with peace and shelter (Isaiah 32:16-18) and that he wants us to start this work now, even in small ways:
"Is not this the fast that I choose… to share your bread with the hungry, and bring the homeless poor into your house; when you see the naked, to cover them, and not to hide yourself from your own kin… If you remove the yoke from among you, the pointing of the finger, the speaking of evil, if you offer your food to the hungry and satisfy the needs of the afflicted, then your light shall rise in the darkness and your gloom be like the noonday" (Isaiah 58:6-10, NRSV).
The Garden is offering brothers and sisters a wonderful opportunity to "satisfy the needs of the afflicted" this winter.
The Garden would be thrilled to send your ecclesia, via Amazon, 20 free sleeping bags to take along to your local homeless shelter. Or, if you live in a warmer climate, we will reimburse you for up to $250 to create care packs, with basic necessities, to take to your local shelter.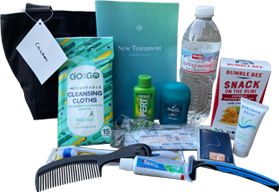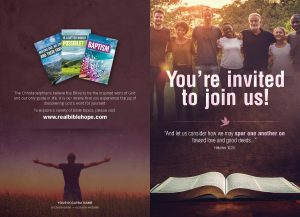 Consider including simple faith-growing material such as a free Bible or New Testament, or local contact information about your ecclesia. We can mail you a generic pamphlet introducing Christadelphians, with your ecclesial information printed on the leaflet. Please email if you'd like to explore this option: initiatives@thegardenoutreach.org
If your ecclesia is blessed with a CYC or Sunday School, this would make an excellent intergenerational project – so please pass these details on to your youth leaders. If you're a small ecclesia, with only a handful of members, this project is still very "doable". All it needs is someone willing to take a delivery of sleeping bags and arrange to take them to a local charity for distribution!
If you would like to make a financial contribution to "The Bags of Love" Appeal – so we can purchase additional sleeping bags and care packs for those in desperate need of our compassion – donate here or contact Sister Virginia Brierly at vbrierly@wcfoundation.org