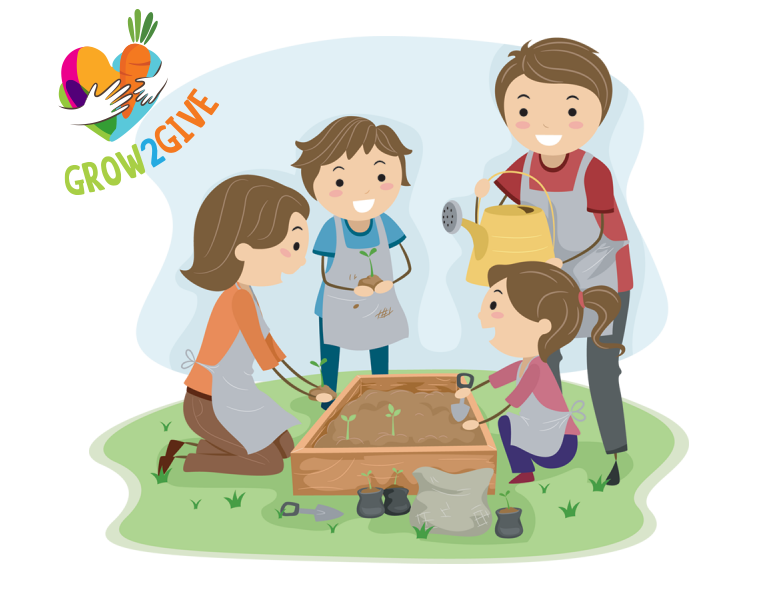 GROW2GIVE
BUILD A GARDEN
Fill out the form below to receive a $25 grant for your family to build your very own garden. Donate your homegrown fruits or vegetables to your local food bank!
Thank you for participating in Grow2Give! We're thrilled to be able to offer your family this unique opportunity to find amazement in the natural food God has blessed us with.
This is a wonderful time to teach children, regardless of their age, that they do and can have an important part to play in helping people in need. By helping provide for those in need, with your guidance, they will be encouraged and inspired to seek out new opportunities to show compassion.
We've also included an activity book, which can be accessed below, The primary lesson is based on Creation and the Garden of Eden. The elementary lesson is based on the Parable of The Sower. In both cases, the focus is on the seed, and how we are the seeds. The key concepts are the POTENTIAL in the seed and the ENVIRONMENT in which the seed grows.
The following are our recommended steps to get started:

Pray to God
God can help guide you to find an organization, or even a neighbour who would gladly accept fresh fruits or vegetables. If donating to a food bank/pantry, search online for charities in your area and find out what fruits or vegetables they need. God will provide.

Fill out the grant form
Once you've submitted the form, we will arrange for $25 to be deposited in your bank account, or mail you a check.

Time to garden!
Plant your seeds, give them lots of water and love, and watch them grow! Work on your activity book to learn about the important spiritual lessons in this amazing process.
Donate your fruits or vegetables
Amazing job! Your family is now ready deliver your home-grown produce, dependent on any COVID restrictions the charity might have in place. Don't forget to ask the charity staff for permission to take photographs to share with us!

Connect!
Delivering your fruits or vegetables is a perfect opportunity to establish a positive relationship with your neighbour or charity. If donating to an organization, find out more about the work of the charity. Ask if they would be interested in visiting your ecclesia or CYC, post-COVID, to give a presentation about their charity. Ask for ideas on how your family can continue to support the work of the charity.

We want to hear from you!
How did it go? Maybe your kids could write a short report and include some photos of them completing the lessons and their home-grown vegetables. If the charity has given permission to share your photos on social media, we'd be happy to include the charity name and a link to their website. Finally, we would love to share your report on our social media as a means to inspire and encourage other brothers and sisters, and so that our community may glorify our Heavenly Father.
To apply for your grant, simply fill out the form below – you could even get your kids to do this with you!
If you have any questions, please email initiatives@thegardenoutreach.org

*One grant per family. Available to Christadelphians in North America only.
We're blessed to be able to provide the resources for this initiative at no cost to you or your ecclesia. If you're interested in making a financial donation to help offset some of the expenses, we would be incredibly thankful. Through your generosity, The Garden will continue to share exciting new opportunities to inspire our community reach out to those most in need. Donations can be made on our donation page or the WCF website.