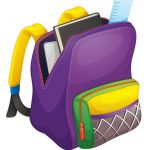 KITS4KIDS
A HOW-TO GUIDE
Thank you for joining in with this exciting initiative! To provide children in your area with a much-needed backpack and school supplies, follow the steps below.
Tips: Buying School Supplies
If you choose to fill the backpacks with school supplies, shop at stores like Target, Staples, Giant Tiger, Dollar Stores, or Walmart in late July – early August. Typically they put out large displays of named brand school products at this time at amazing prices. Buy good quality items. Cheap markers that dry out and glue sticks that don't glue are not a bargain. It's frustrating to teachers and no name products can make kids feel like they aren't as cool/important as their classmates. Having "the good stuff" goes a long way toward bolstering self esteem and confidence.
Below are lists of the types of supplies that you might be asked to provide.
Grades K-2
Plastic pencil box
4-#2pencils
Large eraser
24 count crayons
8 count fat washable markers
2 large glue sticks
8 color watercolor set
Blunt tip children's scissors (for either hand)
1 cute pocket folder
1 pack plain index cards ( for making flashcards)
4pk – tissue packs
Hand sanitizer
Grades 3-5
Pencil pouch
mechanical pencils – 6 pack
Eraser
8 count washable markers
Highlighters
4 oz. white glue
12 inch ruler
3 cute pocket folders
1 wide ruled 70 pg notebook
1 pkg lined index cards
4pk- tissue packs
Hand sanitizer
Here are our recommended steps to get started:

Pray to God
Prayers can accomplish amazing things. Ask God to guide you to find and contact a local school or charity that works with those affected by homeless and low-income families. Confirm they have a process in place to provide the school supplies to the kids who need them. Find out what advice they can offer as to what supplies to provide, and whether the supplies are for grades K-2 or grades 3-5.

Complete the form
Complete the form below. The Garden will send you a case of 24 backpacks, free of charge. The backpacks should arrive in about 7-10 days. If you require financial support, The Garden can provide a $100 cash grant to help with the school supply purchases.

Buy school supplies!
Next, purchase a selection of school supplies, load them into the backpacks and take the loaded backpacks to your selected local school or charity. Make this a group event – encourage your ecclesia, Sunday School children, CYC, friendship groups or neighbors to fill the backpacks together. Each person could contribute a different item of stationery to make it an inclusive activity.
Donate your backpacks
Arrange a date and time to drop off the backpacks at your selected school / charity. Try to include your group in the drop off – especially children and young people. This is an important part of developing a compassionate faith.

Connect!
This is a perfect opportunity to create a connection with the staff at the school or charity, especially for our children. Ask questions to find out more about the work of the school, who needs help and why, and how your ecclesia can continue to support the work of the school. If the opportunity presents itself, consider inviting the organization to your ecclesia or CYC, post-COVID, to explain more about what they do, and how you can help. Please do ask the staff for permission to take photographs for your report to The Garden, and confirm The Garden is allowed to share the photos on social media. We'd be happy to include the school / charity name and a link to their website!

We want to hear from you!
We would love to share your report on our social media as a means to inspire and encourage other brothers and sisters, and so that our community may glorify our Heavenly Father.
Get started by filling out the form below to apply for your backpacks to be delivered!
If you have any questions, please email initiatives@thegardenoutreach.org

*Available to Christadelphians in North America only.
We're blessed to be able to provide the resources for this initiative at no cost to you or your ecclesia. If you're interested in making a financial donation to help offset some of the expenses, we would be incredibly thankful. Through your generosity, The Garden will continue to share exciting new opportunities to inspire our community reach out to those most in need. Donations can be made on our donation page or the WCF website.