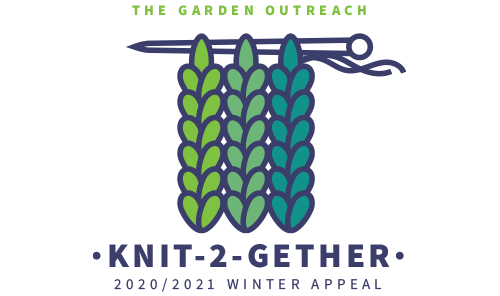 Knitting for the Homeless
In January 2021, we are launching a knitting project called 'knit2gether'! For those who like knitting, we are asking that you knit gloves, hats and scarves for the North American homeless.
"[The LORD your God] ensures that orphans and widows receive justice. He shows love to the foreigners living among you and gives them food and clothing…" Deuteronomy 10:18

Ecclesial Collection Points
The knitted items can either be donated to your local charity or sent to The Garden team for distribution to the streets in the winter months. We have several ecclesial collection points spread across North America. Contact initiatives@thegardenoutreach.org for more information.
Saanich, British Columbia

San Diego, California

Schooleys Mountain, New Jersey

Cambridge, Ontario
Orangeville, Ontario 

Portland, Oregon

Springfield, Vermont

Treasure Coast, Florida
Knitting patterns and wool
If you need hard copies of our suggested patterns (or some wool) posting, please get in touch. To access the patterns online, please click here. Why not let your neighbors know about it and set up a local 'Knit & Natter' group (post COVID) at your hall? This is a great way to build relationships with your local community and help the homeless at the same time.

What if I can't knit?
For those of us who can't knit, try using a loom to knit hats and scarves! To get started, watch this video tutorial:
Inspire others
Please send us photos of your "knit-2-gether" knitting projects to share on our website and social media, with a short report of what you've been up to. Please share easy patterns and ideas.

Each night in the
united states, almost
35%
of homeless people (approx. 200,000)
are found sleeping
unsheltered
in sidewalks, parks, cars, or abandoned buildings.
Source: https://www.whitehouse.gov/wp-content/uploads/2019/09/The-State-of-Homelessness-in-America.pdf