THE GARDENING PROGRAM
OPTION 1:
BUILD A GARDEN
Simply fill out the form below to receive a $25 grant towards building your own garden.
Here's how it works:

Pray God will guide you to find a local charity which fresh fruit and vegetables.
Search online for charities in your area, and find out which fresh produce is in demand, and explore which fruit and veg you can easily grow in your climate.
Complete the grant form below.
We will arrange for $25 to be deposited in your bank account, or mail you a check.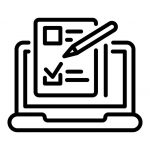 Arrange a delivery date with the charity.
Arrange for your whole family to deliver your home-grown produce, dependent on any COVID restrictions the charity might have in place. Ask the charity staff for permission to take photographs for your report to The Garden, and confirm The Garden is allowed to share the photos on social media. We'd be happy to include the charity name and a link to their website!


Establish an ongoing relationship with the charity.
When visiting the charity to drop off the fresh produce, it's a perfect opportunity to establish a relationship with the staff. Find out more about the work of the charity. Ask if they would be interested in visiting your ecclesia or CYC, post-COVID, to give a presentation about their charity. Ask for ideas on how your family can continue to support the work of the charity.
Submit a brief report with one or two photographs to The Garden.
We would love to share your report on our social media as a means to inspire and encourage other brothers and sisters, and so that our community may glorify our Heavenly Father.

If you're ready to place apply for your grant, simply fill out the form below – you could even get your kids to do this. If you have any questions, please email initiatives@thegardenoutreach.org