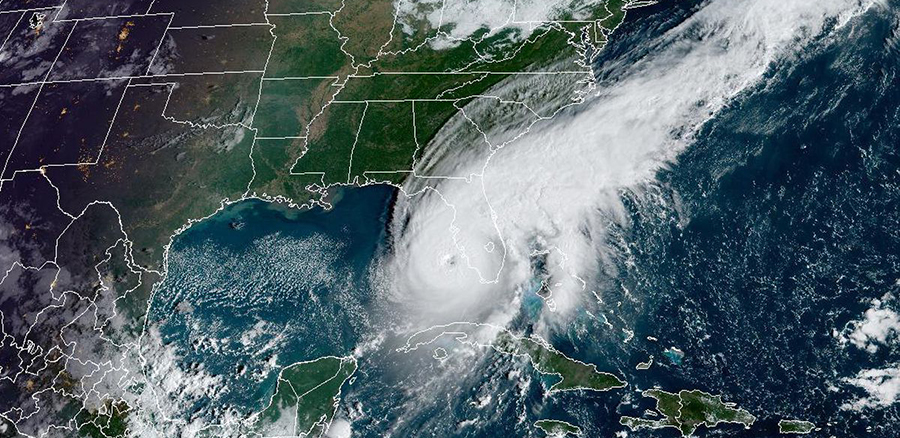 IN TIMES OF CRISIS
Hurricane Ian
Last Updated: September 28, 12:45pm EST
What's happening
Hurricane Ian is churning toward the Florida coastline and is expected to make landfall within the next few hours. The storm has rapidly intensified into a Category 4 hurricane, and the National Hurricane Center's predicted path is entirely focused on central Florida. If the predictions are accurate, the storm will make landfall somewhere on the coast near the Fort Myers area this afternoon.
While the storm's likely landfall is predicted to be further south than believed on Monday, Tampa Bay is still expected to receive up to six feet of storm surge.
---
How many brothers and sisters live in the affected area?
Our thoughts and prayers are with everyone in the storm's path. There are 7 ecclesias in the direct path of the hurricane, consisting of about 150 brothers and sisters. 
---
How can I help affected communities?
If you are able, depending on your circumstances, to reach out to your neighbors at a time when they most need your help, consider donating to your local food bank or providing existing charities with hygiene packs. The Garden can provide a grant to help cover these expenses, as well as additional guidance. Complete this short application form to get started. Each application will be considered on an individual basis.
This list of organizations preparing to help with hurricane relief can guide you further as to where your support is needed:

The Red Cross

is currently accepting donations for those impacted by Hurricane Ian, according to its website. Donations can be made by visiting

redcross.org

or calling

800-RED-CROSS

. Donors can also text the word

REDCROSS

to 90999 to make a $10 donation.

The Covenant House, which has locations in Orlando and Fort Lauderdale, is also accepting donations for its response to Hurricane Ian, noting that "immediate support" is needed, according to its website.

World Central Kitchen – non-profit World Central Kitchen has opened two main kitchens in Tampa and Gainesville to make meals for people affected by the storm. Donations can be made to the organization through its website.
We look forward to our Lord's return, when natural disasters will be a thing of the past. In the meantime, we consider Paul's words:
"whenever we have an opportunity, let us work for the good of all, and especially for those of the family of faith" (Galatians 6:10)
If there is anything more we can do to help, please contact: ​initiatives@thegardenoutreach.org
Are you there?
If you're in – or know someone in – the affected area – please provide us a with a brief update we can share with our community.