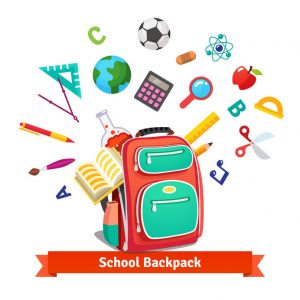 SUMMER OUTREACH INITIATIVE 2021
For the poor will never cease to be in the land; therefore I command you, saying, 'You shall freely open your hand to your brother, to your needy and poor in your land.'
Deuteronomy 15:11
---
A recent estimate says 11.9 million children (18% of all children) in the US live in a family with income below the federally-defined poverty line (US Census data). Another 1.3 million kids (16%) in Canada live in poverty. In 2020, a year as we all know impacted by COVID-19, some 29 million children relied on the US National School Lunch Program.
This summer, in our Kits4Kids initiative, we're inviting North American ecclesias, CYCs, families, friendship groups to receive free backpacks from The Garden. Your group can then fill the backpacks with school supplies and donate them to local elementary schools, in order to support children affected by poverty.
Once upon a time, like when our older ecclesial members went to school, the school itself provided things to write with things to write on and in, and many other school supplies. No longer. Imagine finding yourself in a classroom as an elementary school youngster unable to do the requested work because you lack a pencil or anything to write on, simply because mom and dad have had to choose between your school supplies, medical care, clothing and food for your family. Imagine trying to focus on school work knowing that come the weekend there will be very little to eat at home.
Imagine what that does to your mind. Those who can help to provide the supplies a child needs not only provides the 'stuff', but also offers the child some ownership of their education and a sense of belonging in school. He or she can now learn a bit more about taking care of their own possessions and making decisions for their future.
Then there are the teachers. Imagine how hard it is for a dedicated teacher to teach their children if a large number of them have no school supplies to work with. The needs are simple: pencils, paper, notebooks, crayons, markers, glue. Remarkably, dedicated teachers may spend upwards of $1000 of their own money on such supplies for their classroom. One estimate says that 94% of US teachers purchase supplies for their classrooms.
Happy are those who consider the poor;
the Lord delivers them in the day of trouble.
Psalm 41:1, NRSV
We're blessed to be able to provide the resources for this initiative at no cost to you or your ecclesia. If you're interested in making a financial donation to help offset some of the expenses, we would be incredibly thankful. Through your generosity, The Garden will continue to share exciting new opportunities to inspire our community reach out to those most in need. Donations can be made on our donation page or the WCF website.