COMMUNITY INVOLVEMENT FOR YOUTH GROUPS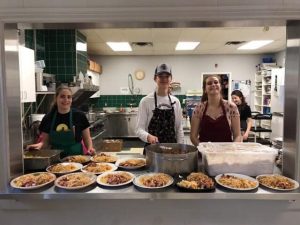 Community Involvement for Youth Groups
Youth are often a ready and willing party when it comes to outreach and they typically enjoy getting to know their communities better. Outreach is a practical way to teach our young people about Christ's love.
Here are some ideas for youth groups to participate in. If you would like help organizing a youth outreach activity please contact Leah Ruhland, our youth outreach coordinator.
"Do to others whatever you would like them to do to you. This is the essence of all that is taught in the law and the prophets"
Matthew 7:12
Volunteering at a soup kitchen
Collecting donations for a food bank
Singing at a retirement home
Harvesting food at a community garden
Trash pickup at a local park
Hosting a vacation Bible school
Running a winter apparel drive (collecting coats, mits, and hats)
Making care packs
Collect children's books for a local women's shelter
Hosting a free dinner
Painting at non profit organizations
Why should youth be active in their communities?:
It's a practical way of fulfilling the Lord Jesus' command: "Do to others whatever you would like them to do to you" (Matthew 7:12).
It helps them learn about how the world works
It Builds Empathy
Encourages responsibility
Helps build their self esteem
Research shows that youth who are involved in their communities have more:
Leadership skills
Problem solving skills
Decision making skills
Resilience
Purpose and belonging in their life
Accountability and responsibility
Obstacles to youth involvement:
Not knowing where to start
Not believing youth can make a difference
Lack of transportation
Safety concerns
Lack of interest
Each night in the
united states, almost
35%
of homeless people (approx. 200,000)
are found sleeping
unsheltered
in sidewalks, parks, cars, or abandoned buildings.
Source: https://www.whitehouse.gov/wp-content/uploads/2019/09/The-State-of-Homelessness-in-America.pdf